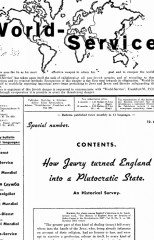 Author : World-Service
Title : World-Service - How Jewry turned England into a plutocratic state An historical survey
Year : 1940

Link download : World-Service_-_How_Jewry_turned_England_into_a_plutocratic_state.zip

The Jew uses the lie as his most effective weapon to attain his goal and to conquer the world. Truth is his worst enemy. "World-Service" has taken upon itself the task of enlightening all non-Jewish peoples and of revealing to them Jewry's sinister intentions and its criminal methods. Recognition of this danger is the first step towards its elimination. "World-Service" has dedicated itself to truthfully reporting important news-items pertaining to Jews and Jewry and thereby safeguarding the liberties of all nations. Whoever is cognisant of this Jewish danger is requested to communicate with "World-Service", Frankfurt/M., P.O.B. 600. Only through co-operation it is possible to avert the threatening danger. ...