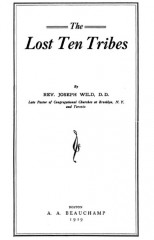 Author : Wild Joseph
Title : The lost ten tribes
Year : 1919

Link download : Wild_Joseph_-_The_lost_ten_tribes.zip

THE following Discourses are presented to the public in book form, in response to the request of numerous friends. The reader will remember, however, that the vast subject of which they treat cannot be fairly and completely presented in such a volume as this. Also, it should be borne in mind, that the language style, and structure, are sermonic. When I first entered the ministry, I made up my mind that I would try and thoroughly understand the Scriptures. I soon found that a large portion was of a prophetic nature. I set to work according to the usual method, but to my sorrow I soon discovered that the method and rules in general use for Scripture exegesis, were very defective and unsatisfactory. The fact was forced upon me that the true method, or key of interpretation, was not in use. I was always persuaded that the Bible was a unit, and that the principles contained in such a unit were beautifully related; and because of such a faith, I wondered more and more as I grew older why we had not a better key of interpretation. Men spiritualised at random, without any kind of a rule, except their own fancy. In this manner they expounded the material history of the Old Testament. The whole arrangement was a Babel. ...