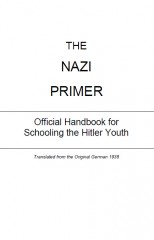 Author : Anonymous
Title : The nazi primer Official handbook for schooling the Hitler youth
Year : 1938

Link download : The_nazi_primer.zip

Introduction. FACTUAL OUTLOOK ON LIFE. The world outlook of National Socialism is today the common possession of all Germans. All well-disposed and unprejudiced comrades have made the ideals of National Socialism so much a part of themselves that they give firm support and direction in every situation of life. This participation in the National Socialist world outlook also enables German comrades to take an active part in forming our national life. Without regard to place, every German anywhere can cooperate by thought and deed in political, cultural, and economic upbuilding. The common world outlook is the indestructible bond, which binds our people's leaders and followers to the common task. The past knew no such cooperation of all comrades in forming the community life of our people. A deep chasm once separated rulers and subjects one from another. Even in the days when so-called democratic principles were supposed to prevail with us the humble comrade was excluded from the shaping of our people's fate. Inner participation and genuine cooperation of all Germans was also impossible because, in most cases, only a small circle of adept persons was able to grasp in what way state leadership should go. The reasons for this lay, not only in the fact that the past had no unified and common world outlook. It also lay in the fact that the innumerable so-called outlooks on life were themselves so unclear and perplexing that no information of a political will could proceed there from. The earlier philosophical suppositions were not founded on any perception of reality and of the facts as given. Instead, they were unrealistic theories devising their own notions of world trends. They had nothing to do with actual events and in most cases stood in sharpest opposition to them. By reason of this opposition between theory and practice all questions of national life soon become so entangled and obscure that even the "leaders" of such philosophical systems did not know how to establish order amid the confusion. The humble comrade, however, could only wait more or less patiently for what, as a result, came out of high politics. He had been crowded off the political stage into the arena of onlookers. The exact opposite is the case today. All questions of our national life have become so clear, simple, and definite that every comrade can understand them and cooperate in their solution. For the National Socialist outlook on life is not something ingeniously devised. It is no theory, but adapts itself strictly to existing reality. The ideal of National Socialism is born of experience. It is a factual and realistic outlook on life. The most significant and most efficacious realities in the life of a people are "Blood and Soil." Whoever recognizes their binding force and effects in history can also take part in shaping the future. To foster the building up for a political will in the Hitler Youth organization, according to the National Socialist outlook on life is the task of this little handbook for the schooling of the Hitler Youth. ...