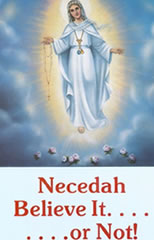 Author : Scheetz Leo A.
Title : Necedah believe it... ...or not
Year : 1982

Link download : Scheetz_Leo_A_-_Necedah_believe_it_or_not.zip

The contents of this book are in no way intended to contravene, in any way, the decision of the Church concerning the happenings at Necedah, Wisconsin. Further, these pages are in no way intended to promote the cause of the alleged apparitions of Necedah, Wisconsin. The contents of this small volume were written and compiled by me for the sole purpose of entertainment and study of anyone who might choose to read it; and in keeping with the new interpretation put upon liberty and freedom of conscience by Vatican Council Two. While the contents of this little volume are guaranteed to have been verified as to reliability, so far as human frailty permits, be it said that no claims whatsoever are made for the authenticity of the phenomena presented. This is to say no judgment is passed as to whether the phenomena might be said to be natural or unnatural; supernatural or preternatural. The author is Father Leo A. Scheetz M.A., J.C.B., Earl Park, Indiana 47942. The author feels that in keeping with what Pope John XXIII and Vatican Two had to say about "news," the public has the right to the news on Necedah. What the public does with it is not the author's affair. ...