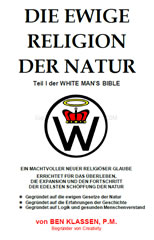 Author : Klassen Ben (Bernhardt Klassen)
Title : Die ewige religion der natur Teil 1 der White man's bible
Year : 1973

Link download : Klassen_Ben_-_Die_ewige_religion_der_natur.zip

Vorwort. Die in diesem Buch niedergelegten Prinzipien und Glaubensaussagen konstitu-ieren die Glaubensartikel der Church of the Creator (beachte, seit 2003: Church of Creativity). Unsere Anschauungen werden von einer überwältigenden Fülle erhärte-ter Beweise bestätigt. Sie gründen sich auf die ewigen Gesetze der Natur, so-dann auf die Lektionen und Erfahrungen der Geschichte, schließlich auf Logik, gesunden Menschenverstand und die Wirklichkeit, nicht auf Mythen und Fan-tasie. Keine andere Religion kann das ehrlicherweise von sich behaupten. Zudem vertreten wir die Auffassung, dass in 6000 Jahren überlieferter Geschichte Nature's Eternal Religion das am tiefsten gehende und bedeutsamste religiöse Buch ist, das jemals für den Fortbestand der Weißen verfasst wurde. Es ist ein fundamentaler Glaube, basierend auf den ewigen Gesetzen der Natur, für das Überleben, die Ausbreitung und den Aufstieg der Weißen Rasse, der edelsten Schöpfung im Reich der Natur. Wir sind zuversichtlich, dass die Wei-ßen bald zu den Tatsachen zurückfinden, unsere kraftvolle neue Religion an-nehmen, wieder selbst ihr Schicksal in die Hand nehmen und zu neuen Höhen vorwärtsschreiten, wie sie bisher niemand erträumt hat. Es ist dieses noble Ziel, das Fortbestehen, die Expansion und das Vor-wärtskommen der Weißen, dem Nature's Eternal Religion gewidmet ist. Für diese Ziele wurde unsere dynamische Religion ins Leben gerufen. Wir nennen unsere Religion Creativity und ihre Mitglieder Creators, weil wir glauben, dass diese Begriffe in ihrer Essenz am besten die eigentümliche Seele der Weißen Rasse beschreiben. Wir weisen vollständig die judäo-demokratisch-marxistischen Werte von heute zurück und ersetzen sie durch neue und grundlegende Werte, welche auf der Rasse beruhen. Wir verfolgen gegenüber den Problemen, denen sich die Weißen gegenwärtig in ihrem verzweifelten Kampf um ihren Fortbestand aus-gesetzt sehen, einen neuen, revolutionären und dynamischen Ansatz. Obwohl unsere Religion neu ist, die in ihr verkörperten Gesetze sind es nicht, und sie wurden auch nicht von uns eingeführt. Im Gegenteil, wir haben lediglich beobachtet und in Worte gefasst, was die Natur in ihrer ewigen Weis-heit seit Anbeginn der Zeit für das Überleben aller ihrer Kreaturen festgelegt hat. ...