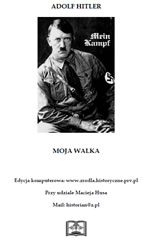 Author : Hitler Adolf
Title : Moja walka
Year : 1924

Link download : Hitler_Adolf_-_Moja_walka.zip

Obrachunek. Słowo wstępne Adolfa Hitlera. 9 października I921 roku, w cztery lata od jej powstania, Narodowosocjalistyczna Niemiecka Partia Robotnicza została rozwiązana, a jej działalność zakazana w całej Rzeszy. I kwietnia I924 roku wyrokiem Sądu Ludowego w Monachium zostałem skazany i osadzony w twierdzy Landsberg nad Lechem. To dało mi po latach nieprzerwanej pracy możliwość przystąpienia do dzieła, którego wielu się domagało, a które ja uważałem za pożyteczne dla ruchu. Tak więc postanowiłem wyjaśnić w tej książce cele naszego ruchu, a także przedstawić obraz jego rozwoju. Z niej będzie się można więcej nauczyć niż z jakiejkolwiek czysto doktrynerskiej rozprawy naukowej. Dało mi to sposobność przedstawienia swojej osobowości na tyle, na ile jest to potrzebne do zrozumienia idei tej książki i rozwiania sfabrykowanej przez żydowską prasę legendy mojej osoby. Tą pracą zwracam się nie do obcych, ale do tych stronników ruchu, którzy należą do niego sercem i pragną jego zrozumienia. Wiem, że ludzi łatwiej można pozyskać słowem mówionym niż pisanym i że każdy wielki ruch na tej ziemi rośnie w siłę dzięki mówcom, a nie wielkim pisarzom. Jednakże w celu stworzenia podstaw jakiejś doktryny i jej ujednolicenia wewnętrzne zasady muszą zostać spisane. Może więc ta książka stanie się kamieniem węgielnym naszego ruchu, do którego i ja wniosę swój wkład. Autor. ...