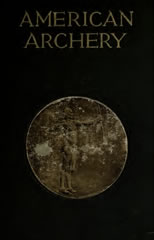 Author : Elmer Robert Potter
Title : American Archery
Year : 1917

Link download : Elmer_Robert_Potter_-_American_Archery.zip

Preface. This book was prepared as an act of the National Archery Association of the United States, and its publication authorized at the annual meeting of that body in 1916. It is made possible by the efforts of its principal author and its editor, both being Dr. Robert P. Elmer, present and for three years past Champion archer of the United States. American and other archers will be grateful to Dr. Elmer, not only for the filling of the great need for any current book at all on the sport, but for the excellence of his own contributions and for his diligence and discrimination in collecting the remainder of the chapters. Two of the chapters are substantially of matter once published in Forest and Stream. Permission has been given for its reprinting herein. We are grateful The format, the cover, the title page and other artistic requirements of the book have been made as they are by the advice and assistance of Mr. Arthur N. Hosking. We hope they are reasonably to his liking; and to him, also, we are grateful. ...